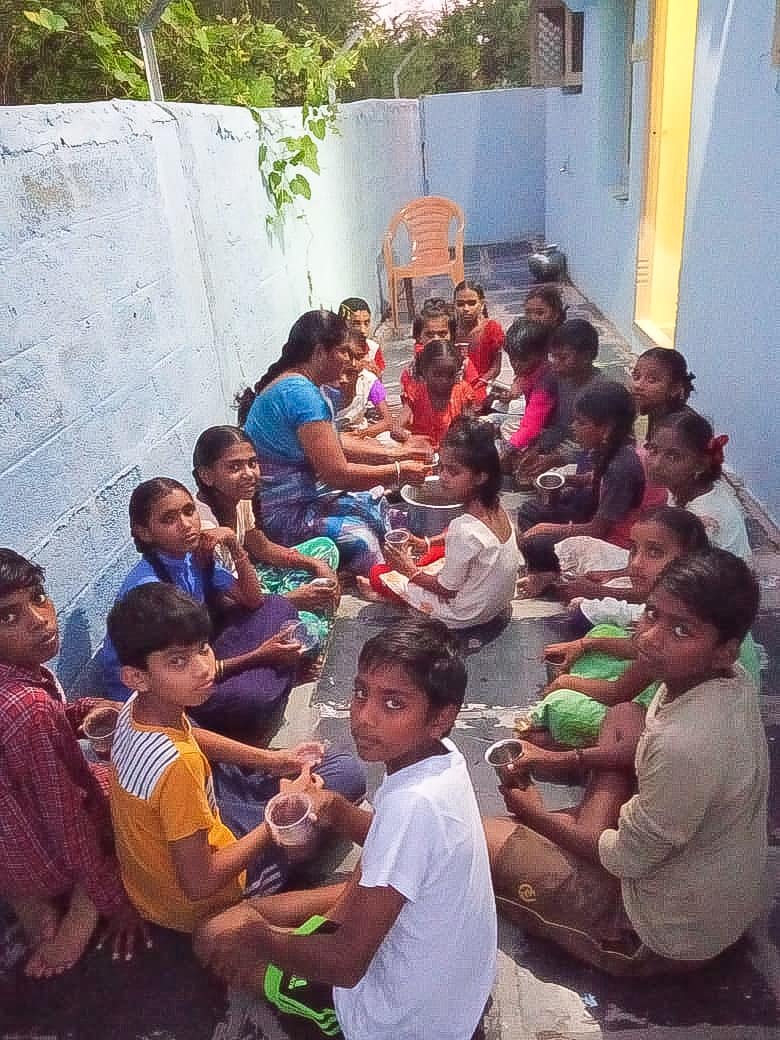 Hope For India's Street Children! "AOI's Amazing Children's Home"
Photo – Sister Mary sits quietly in the still of the evening serving dinner to the children of AOI's Amazing Children's Home in Narasaraopet, India. 
Extreme Poverty In India Effects God's Children In Many Ways!
Life in the slums of India is hard, especially for the children. Children often find themselves abandoned by their parents (for many reasons, financial, and death among the leading causes), leaving them with the nearly impossible task of caring for themselves and even their younger siblings.
Many children beg for food and money during the day from those who pass them by on the crowded streets, and young girls are especially susceptible to child marriage and a life of prostitution.
Additionally, education takes a back seat leaving many children without hope of ever leaving their life of poverty and the potential for making a living wage.
Unless the children find support through organizations like our AOI's Amazing Children's Home, many will die young and not make it to adulthood.
But There Is Hope!
In a remote village of Andhra Pradesh India is where you will find Sister Mary and her husband Brother Raghava, Amazing Orphans International's mission partners who care for 24 beautiful children that were once among India's most vulnerable little ones.
Brother Raghava knows firsthand what it's like to be a child living on the streets of India. From a very early age, he found himself, by no fault of his own, living on the streets fighting to survive. It made such an impact on his life that he vowed to care for children that were just like him; India's most vulnerable, orphaned, and abandoned children (street children they're called).
Today Brother Raghava and Sister Mary are known and loved throughout their community for the work they are doing with our little ones. Providing a place to live, meals, clothing, healthcare, and a Christian education. And, if caring for our little ones was not enough, they can frequently be found providing for the homeless in their community.
Partner With AOI To Save India's Street Children!
If you already support AOI's work, we sincerely thank you! We simply could not do what we are blessed to be doing without you. Or, if you would like to know more about AOI's work through our Amazing Children's Home and how you can help change the lives of our little ones please write to us at [email protected] for more information!
Already feel God tugging on your heartstrings? If you wish to partner with AOI to help vulnerable, orphaned, and abandoned children in India right now, please click here to be taken directly to our donate page and mention our "Amazing Children's Home" in the comments section when donating.
Matthew 25:40 "The King will reply, 'Truly I tell you, whatever you did for one of the least of these brothers and sisters of mine, you did for me.'
My Daily Armor Ministries is a registered 501(c)3 nonprofit organization. All donations are tax-deductible in full or in part. © 2021 My Daily Armor Ministries, MyDailyArmor.Org, AmazingOrphans.Org, JonnysWagon.Org. All rights reserved.